ECG Notes: Interpretation And Management Guide
Author: Shirley A. Jones
Publisher: F. A. Davis Company
Publication Date: 2005-04
Number Of Pages: 200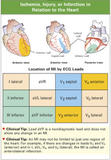 ECG Notes: Interpretation and Management Guide
Author: by Shirley A. Jones
ISBN: 0803613474
Publisher:F. A. Davis Company; Spiral edition (April 2005)
Format: PDF - 207 pages
Product Details
ECG Notes is a quick-lookup reference for ECG interpretation and management. This indispensable pocket guide presents information in an easy-to-use format.
* Actual size, 3 x 5 inches with spiral binding across top
* 208 pages, 155 color illustrations
* Latest CPR and ACLS guidelines
* "Clinical Tips" provide essential clinical implications throughput the guide
* Over 100 arrhythmias analyzed in easy-to-read 6-second strips
* Covers 12-lead, emergency meds and skills plus lead placement and cardiac A&P.
* Pages are waterproof and can be written on with ballpoint pen. Wipe old entries off with an alcohol pad and reuse. This is a great feature for taking notes.
http://rapidshare.com/files/5447024/..._2005.pdf.html
---------------
http://rapidshare.com/files/7295683/ECG-N.pdf
---------------
http://www.bestsharing.com/files/ms0...apios.rar.html
Password: kapioskanis
---------------
Download page: http://mihd.net/i9x8la
pass: kapioskanis