دى مجموعة كتب البورد
لأمتحان
1st
فارما وبكتريا وباثولوجى و كيمياء

ودى لينكات تحميل الكتب مجانا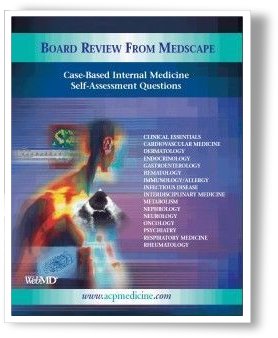 Board Review from Medscape
Board Review from Medscape
Case based internal medicine self assessment question
David C. Dale (Editor), «Board Review from Medscape: CASE-BASED INTERNAL MEDICINE SELF-ASSESSMENT QUESTIONS»
WebMD Professional Publishing | ISBN 0974832782 | 2005 Year | PDF | 2 Mb | 593 Pages
This is a convenient new review e-book, consisting of nearly 1000 case-based problems. Whether you're studying for the board, recertifying, or just looking for a convenient way to make sure your patient-care skills stay sharp, this internal medicine self assessment tool makes review easy and enjoyable.
* Comprehensive. An extensive library of questions covers all of adult internal medicine, plus Psychiatry, Neurology, Dermatology, and more. And, each of the 981 questions presents commonly encountered cases, diagnostic and therapeutic options, and in-depth reasoning and explanations on the recommended choices. Covers all the major areas of practice you need to review to score well on the exam.
* Trustworthy. Questions are derived from the respected ACP Medicine CME program. For further reading, the problems are referenced to ACP Medicine, a continually updated, evidence-based reference of adult internal medicine. The cases are reviewed by experts in clinical practice from our editorial board at the nation's leading medical institutions.
* Relevant. Case-based for greater relevance to daily practice—the format selected for many of the questions on recent exams. These self-assessment questions provide easy-to-understand, detailed explanations of the principles behind the answers—an ideal way to get ready for the boards or recertification.
* Print or Electronic Formats. Our problem series can be ordered in traditional print or convenient e-book formats. The soft-cover print book is approximately 600 pages, published in July of 2005. Or, our e-book offers a convenient PDF format for immediate download and allows you to test your medical knowledge wherever you choose—from your computer or handheld device or by printing out an easy-to-read hardcopy to carry with you.
http://rapidshare.de/files/22265592/ACPBoardReview.rar.html
or
http://www.megaupload.com/?d=DZYY7X4U
or
http://rapidshare.de/files/25938395/ABR.rar
Medical Microbiology & Immunology
Medical Microbiology & Immunology Examination and board review
pages: 644 pages
Publisher: McGraw-Hill/Appleton & Lange
ISBN: 0071431993 , Format: DjVu
Size: 15.6 Mb Approx
The most concise, comprehensive, and up-to-date medical microbiology immunology review! Gives students the high-yield information they need to prepare for the USMLE Step 1 and course exams. Completely updated throughout, the new edition covers developments in HIV, hepatitis, smallpox, SARS, and more. Features case discussions, USMLE-style questions, and a USMLE-style practice exam.
http://rapidshare.de/files/23677159/LangeMedicalBook_MedicalMicrobiology_Immunology8ed2004Levins.rar.html
Password: Lekar
or
http://rapidshare.de/files/23700185/MedicalMicrobiology_Immunology.part1.rar.html
http://rapidshare.de/files/23733411/MedicalMicrobiology_Immunology.part2.rar.html
http://rapidshare.de/files/23733861/MedicalMicrobiology_Immunology.part3.rar.html
Board Review Series: Pathology
BRS PATHOLOGY
96MB FILE
2002 EDITION , 2ND EDITION
http://rapidshare.de/files/25685054/BRS_PATHO_2nd_ED.rar
48.83 MB
or
http://rapidshare.de/files/24572964/Pathology_Board_Review_Series_-_2002.rar.html
Board Review Series: Biochemistry
http://rapidshare.de/files/19469001/BoardReviewSeries_Biochemistry2ed1994Marks.rar.html
Pass: http://www.usmle.ge/
BRS Pharmacology Flash Cards (Card Deck 259 Cards)
Book Description
A set of 259 flashcards, organized by system or drug class, highlights need-to-know information for those preparing to take the USMLE step 1 exam. Features concise format with high-yield content. Each card offers a brief question and answer using a trigger phrase for memorizing and recalling correct responses.
Product Details
Cards: 640 pages
Publisher: Lippincott Williams & Wilkins; Flashcards edition (February 2004)
ISBN: 0781747961
Download:
http://rapidshare.de/files/15769014/PHARFCards.zip
system review Kaplan
http://www.sendspace.com/file/m1nt98
Board Review Series: Physiology
http://rapidshare.de/files/25685695/BRS_Physio_2ed.rar
13.54 MB
Appleton & Lange's Review for the USMLE Step 2
Author(s): Chan, Carlyle H.
ISBN: 0838503411
Format: eBook, 386 pages.
Pub date: 6 Dec 1999
Copyright: 2000
Pages: 372
Offering a comprehensive review of critical concepts in a question and answer format, this updated edition is a useful study aid for students preparing for the USMLE Step 2. All questions, ninety percent of which are in the form of case studies, follow USMLE Step 2 Exam Guidelines
http://up-file.com/download/43e22b699743/Appleton---Lange-s-Review-for-the-Step-2.rar.html
or
http://www.bestsharing.com/files/ms001125286/220FSEF060919120737.rar.html
Website password: lekar/flashjet
Archive password: flashjet/lekar
Appleton & Lange's Review for the USMLE Step 3
Pages: 252
This comprehensive review includes over 1,000 questions with detailed explanations, subspecialty lists, and references updated according to the current USMLE Step 3 content guidelines. Key Topics: The second edition provides a thorough review of the basic and clinical sciences, and includes a clinical competence review and practice test with 120 single-item questions and 60 case study questions. Market: Medical students.
http://rapidshare.de/files/33733274/USMLE.Step.3.Review-0838503055.rar